A Monitor for creators? (Benq PD3220U)
This is a premium monitor from Benq which is marketed towards designers and color accurate productivity such as: Video, Illustration, CAD, 3D and Photography.
It has a 4k 10 bit 60Hz IPS panel on a 32" size, this means it can display many colors accurately and is very sharp.
Why did I get it?
I acquired this monitor due to my interest in photography, I came from a Samsung gaming monitor that was quite nice with punchy colors... so much in fact that I found myself color grading my photos in a way that did not reflect correctly on most other monitors, or in print.
It's a bit contradictory if you think about it, you buy a fantastic camera and lenses and then scimp on the monitor you display and work with them on? How did it live up to my expectations and intended use?
My actual criterias when selecting this monitor:
High resolution, I considered either 5k2k (21::9??) resolution and 4k (16:9 / 16:10)
IPS and True 10 bit panel
Color accurate profiles.
Nice to have: Thunderbolt and good amount of connectivity options.
Overall nice and premium design (no gamer theme)
Design
Previously I have had monitors both with gaming esthetics and more "professional" designs. Obviously you can game on "professional" monitors and do professional work on gaming monitors... however I find myself getting tired of the gaming estetic of something quite quickly.
To my taste (now a year later) the Benq PD3220U has a very clean design that I am not getting tired of so far, it has thin bezels and a very sturdy stand that is fully made of metal.
The trend for me recently had been to put monitors on desk mounted stands, but I like the stand that came with the monitor so much that I have have kept using that.
Features
Being a monitor marketed towards designers the Benq PD3220U is very color accurate and supports: DCI-P3, Display P3, sRGB, Adobe RGB and REC 709 color modes.
It has convenient options for your to easily toggle between the color modes modes, both using software, on-screen display and even using the included "puck".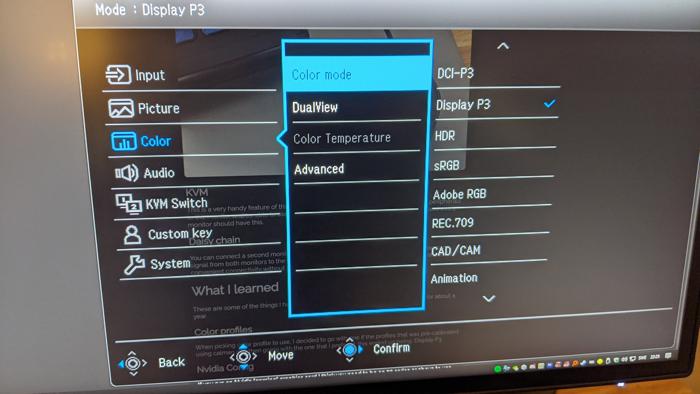 Puck (Control device)
The included "puck" as mentioned is an external control device that allows you to easily change settings on the monitor without having to push any of the buttons on the display, this is very handy when for example wanting to change the input source.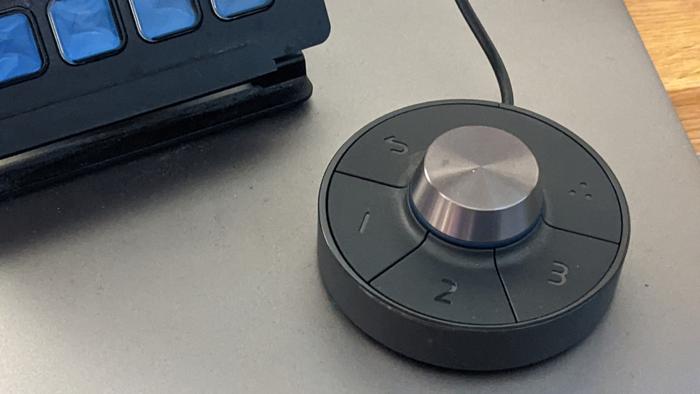 KVM
This is a very handy feature of this monitor, it essentially allows you to connect your peripherals to the monitor and be able to use them as you switch input source. It's just modern and every monitor should have this.
Daisy chain
You can connect a second monitor to the Benq PD3220U using thunderbolt and it can pass signal from both monitors to the connected computer, again a modern feature that allows for convenient connectivity without excess cable routing.
What I learned
These are some of the things I have learned about this monitor now when having it for about a year.
Color profiles
When picking color profile to use, I decided to go with the Display P3 profile and this is the one I use most of the time now. This is strangely enough not one of the profiles that is calman certified, however it looks best to my eye and preference.
Nvidia Config
If you run an Nvidia "gaming" graphics card I think you need to be on 20 series or above to use true 10Bit (I could be wrong), and nowadays you can enable it both in the "Gaming" and "Studio" drivers... when I first got the monitor you had to be on studio drivers.
This is done under NVIDIA Control Panel > Display > Change resolution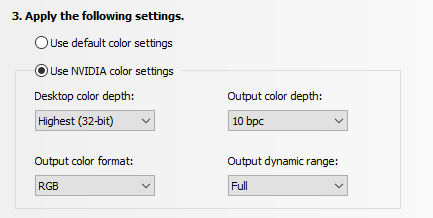 Daily use
Some of these things are not specific to this monitor but I thought I would mention some of the things to consider for a monitor like this one.
SIze: Personally I don't get why you would get a 4k monitor if you will either not run it in native resolution, or scale everything above 100% size.. so to me the 32 inch size is ideal and it's quite rare that I find myself scaling the windows.

Desktop sharing: If you are someone who is regularly sharing your desktop in meetings, then be prepared to adapt. Have in mind that most people you will be sharing with are still on low resolutions and will everything will look tiny if you are sharing the whole desktop.

Productivity: With a monitor this size, you now have 4 x 1080p monitors in one..depending on what you do of course but for many this can be a huge productivity booster and is definitely worth considering if you are balancing cost vs benefit.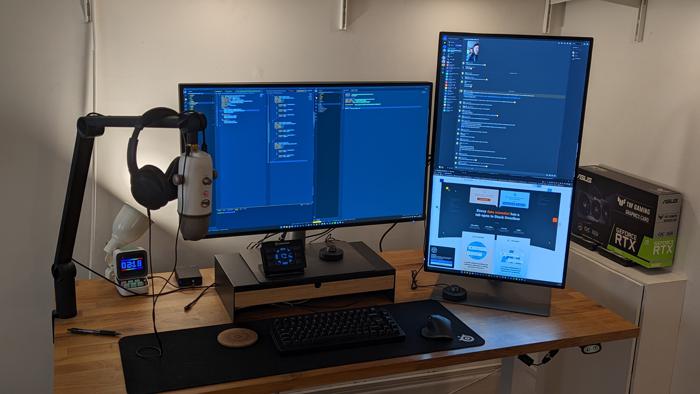 Customer care
Unfortunately my first unit of this monitor has some issues with the panel, obviously I was disappointed but the efficient support from BenQ made this all better.
I simply raised a support case with a description and pictures of the issue and they simply had a new monitor delivered within days and they picked up the defective one.
My overall impression with this was great.
Conclusion
Considering my extended use of this monitor and my original purchase decision, I would say that I am very happy with it.
It's definitely a luxury product, and I do think that if you judge it just by its raw panel specs then probably you can find better value in another product.
However I think if you extend your monitor selection criterias abit and include the features I am mentioning above then you will have a hard time finding something in the same price category.
I would definitely recommend this monitor, for me it has vastly improved my precision when color grading photos, and it has certainly improved my workflow by allowing me to see more at once and organizing the windows in more efficient ways.