Tripod oak lamp
I was on the market for a new desk lamp, or actually a pair of them!... one for each windows. I came across some nice tripod designer once that were pretty pricey and thought to myself... "I could make that!"... so I did..
Design
I looked around on different ready made lamps to find some inspiration and basically I ended up visualizing the dimensions with my intended window placement and existing lamp as reference.
Something that surprised me when designing this was how difficult it was to find a lampshade that I felt had the right proportions to the base, specially since I absolutely wanted this to have an E27 socket (max those lumens!)
Tools
If you have fancy tools and a workshop of sorts, then I bet you could build this in a few minutes.
I ended up using the following tools, some which I already had and others that I borrowed.
Personally I feel that for one of projects like this, you should not let the tools you have stop you... just use whatever inexpensive manual tool you have that does the job.
Electrical Jigsaw (borrowed)
Manual thin blade Jigsaw
Clamps
Chisel and a flathead screwdriver that I sharpened to be a chisel.
IKEA stool as workbench :-)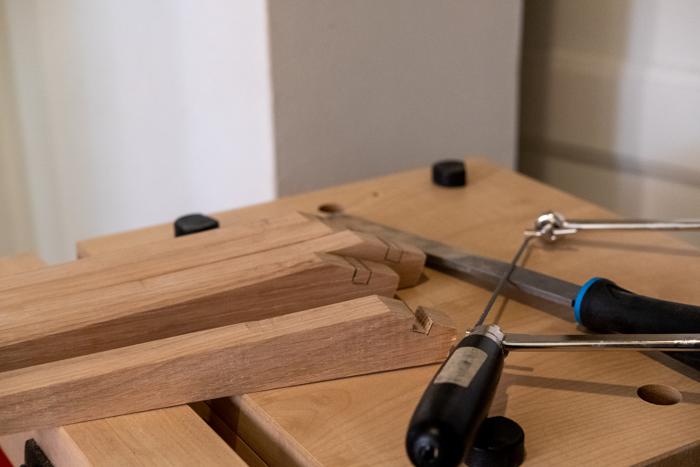 Materials
Wood
As mentioned I do not have fancy tools like a bandsaw, so I decided to buy materials as close to the dimensions I was looking for. And honestly I let some of the dimensions I could get the material in guide the design.
I like the patterns of oak so I went with that! Some dimensions of this can be a bit pricey but I figured for the lengths of material which is the lowest you can buy, that I could get 3 maybe 4 lamp stands out of it so I weighed that against the cost and thought it was worth it.
For the feet: 1 pcs 22mm x 30mm x 2m
For the base: 1 pcs 60mm x 7mm x 2m
Coating
Personally I like the look of quality wood, for me there is no need to stain or hide the natural look of the wood... specially if you have something as nice as oak.
Previously I had custom made table tops in wood and coated them with OSMO Hardwax oil and the result had been fantastic.. so I ended up using that.
I am no expert but, if your going to oil or coat something then do some research... some products are just vastly superior to others.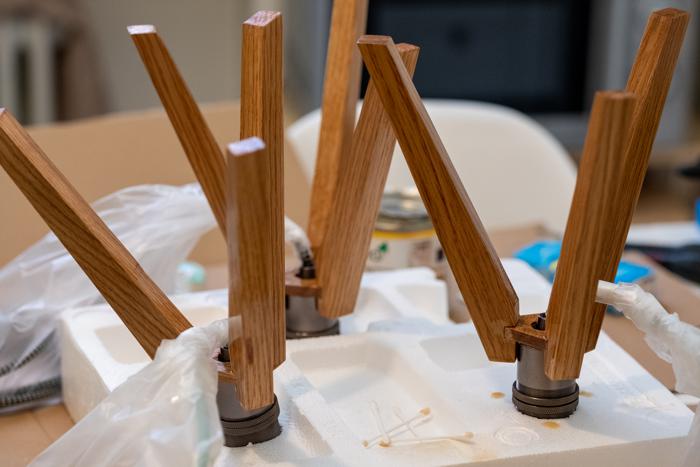 Cord and Socket
For the cord and socket I was ready to do these myself and I knew I wanted to have the cord being braided, I actually had some from before that I liked a lot but never found the right use for.
The cable I had ended up being to short and poor quality, so I ended up finding a niche website called lampsladdar.se that had a nice selection of cords and sockets which you can if you want also get fully assembled.
Lamp shade
Never really looked around for lamp shades before. I learned that there are many many options and prices. As mentioned I wanted E27 lamp socket and it turns out that this is not so easy to find a lampshade for that is around 20cm.
I ended up getting the SKOTTORP 19cm which can be adapted to both E27 and E14